Facility
The company has set up its state-of-art manufacturing facility at Bhumi World Industrial Park - Pimplas, Thane. The facility has all pre-press, press, post-press and QAQC lab under one roof.
The pre-press facility is fully equipped with the machines, equipment and instruments that deliver high quality inputs to Press.
The facility encompasses slitting machine & sheeting machine for stock preparation; pneumatic screen stretching facility, automatic emulsion coater, screen exposing unit and dryer for screen preparation; and sophisticated ink mixing kitchen for developing new metallic and non-metallic shades.
The press set up has a unique combination of automatic & semi-automatic printing machines that aids greater amount of flexibility in handling low and high volume jobs.
The automatic lines have two cylinder presses with in-line drying facility for faster turnover of jobs; while maintaining the quality!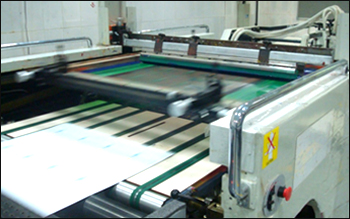 The post press set up has all requisite converting machines that includes lamination, back-scoring, and punching machines.
The QAQC lab in the facility has functional analytical devices that are used for testing various properties of products. The list of instruments includes tensile tester, weighing scale, screen tension meter, gloss meter, chroma meter etc.
The strong in-build quality systems ensure the quality of products throughout the process.